A quick check of interviews with Benedict in which he's asked to "list favorites" almost always includes his admission that the list would change if he's asked again the next day - and that lists are, well, a bit challenging for him. In fact, in true Cumberbatch fashion, he admitted as much to the folks at
Two Paddocks
who asked for his Top 10 favorite songs. Two Paddocks, by the way, is the vineyard in New Zealand co-founded by actor Sam Neill - not that it's unusual for actors to venture into the vineyard. We've learned through media coverage that Ben enjoys the fruit of the vine every now and again:
Ah, but I digress - and I'm getting rather thirsty.
What our ever-so-humble star said at the time regarding his
Top 10
Tunes: "This list changes depending on the weather, my tummy, the company I'm keeping, the time of day... But it has been a pleasure to do the soul searching and memory lane trips."
We'll cover the others in his Top 10 in later posts, but we start with his #3: "You Can't Always Get What You Want" by the
Rolling Stones
.
"First heard this in my over privileged youth at

Harrow

. And as posh boarding schools go you can pretty much do or get anything you want out of an experience like that. However adolescence and being without girls or the freedoms of living outside of your school meant that this inspiring hymn to patience didn't fall on deaf ears. It's just a stunning daring funky soulful uplifting one off from choral beginning to end. Anyway I don't need to tell you any of this just that it inspired my brief filtration with being a front man."
This Stones classic, written by Mick Jagger and Keith Richards (like John Lennon & Paul McCartney - with possibly fewer creative differences and more public displays of substance enjoyment - allegedly), was released in 1969 - and was rumored to be inspired by the Beatles' "Hey Jude" (penned by Paul McCartney and released in the fall of 1968) with orchestration as a feature, not just filler. "You Can't Aways Get What You Want" was originally a b-side release, and didn't get much attention at first. (No. Really). It was 1973 before it reached #42 on Billboard Hot 100, and love for the song meant for us to sing along grew from then on.


Talk about a hymn to patience! The song made it onto over half a dozen of the Rolling Stones compilation albums, and, in 2004 made it to #100 in Rolling Stones "500 Greatest Songs of All Time."
(It only took 35 years. As of this writing, Benedict is 37.)
Like fine wine and good music, a good song ages well - and you've waited long enough.
Grab your girl, your guy (or a glass of goodness from your favorite grapes)
Channel your inner frontman.
Get your groove on: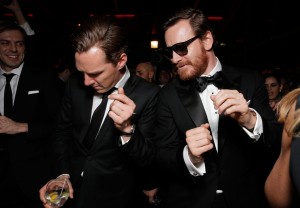 1969 on The David Frost Show:
2003 Live at Twickenham Stadium: